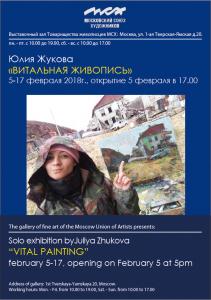 Author of the text Sergey Gavrilyachenko.
ART BY JULIYA ZHUKOVA - GALLERY OF MODERN RUSSIAN PAINTING·29 ЯНВАРЯ 2018 Г.
Solo exhibition of Russian artist Julia Zhukova - "Vital Painting".
From February 5 to February 17, 2018.
At endless diversity of talents, they still can be classified to help the audience (i.e. critic) to understand somehow (OK, not in very precise way) the art features of any painter of a great interest. Some are creators, tireless travelers around the world, looking for new views and feelings; others are "one place" autists enjoying "a hundred views of mount Fuji" or their own room-chamber microcosm; some worship color-mixing and fall in rampage tactile, improvisatory mixing them; some are sad pessimists, others have indomitable vitality… Along with few extremes there are endless number of medium mixed variations responsible for the diversity of talents. Using these dual markers, you can determine the artist in his extraordinary...